Fast, reliable and secure access to information
FiberFed

Your private fast lane
Unlike broadband, you will get the highly reliable service and speed you pay for – no matter how many other users are on the network. Stay dedicated to your customers by prioritizing traffic, like video conferencing or file exchanges, in near real-time. We accomplish this by supplying fiber-optic cable that goes from your premise directly to our data center gateway.
Help protect your business from costly outages
From cloud applications to VOIP phone lines, your critical applications require a constant connection. Dedicated Internet is protected by world-class Service Level Agreements like 99.95% service reliability.
Our experts can help keep your connection
highly-secure Dedicated Internet is more highly secure than shared connections, and features 24×7 network monitoring and technical support. Add-on services include DDoS protection, managed firewall, and more. (See diagram on back)
Access Options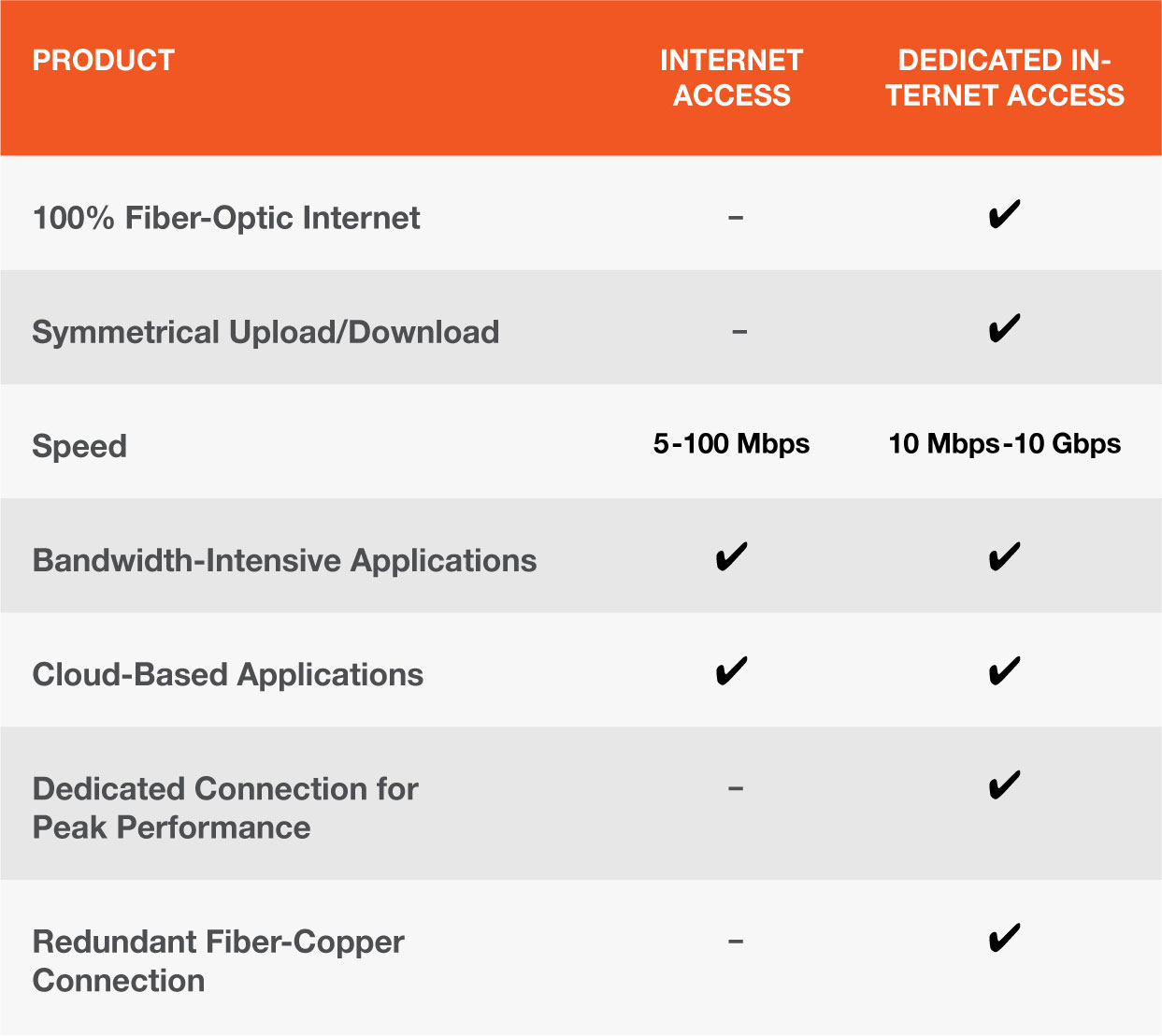 Choose the right speed: 10 Mbps, 100 Mbps, 1 Gig, or a 10 Gig Ethernet interface, in increments from 1 Mbps to 10 Gig.
We assign up to two permanent IP addresses for running multiple servers or applications like a VPN (virtual private network) per circuit. Additional IP addresses are available at for an extra charge. /24 are available.
Primary and secondary DNS hosting service is included. We help you transfer any existing domain names.
Information Cybersecurity Program
Our data centers address rigorous physical and environmental standards. Services are monitored 24/7 with threat detection technology.
Get toll-free access to 24/7 priority support from a dedicated team of experienced tech specialists. 
Our terms of services are best in business, outlined in our SLA.
Optimize stability for your connection with an optional Border Gateway Protocol (BGP) setup. This allows you to use the separate Internet connection for inbound and outbound routing reachability. The FiberFed Network provides 4 Ethernet Solutions below!
How
FiberFed Dedicated Internet

is better
With dedicated Internet access from Fiberfed, organizations can:
Achieve performance objectives with MEF compliant connectivity from a fiber-optic network.
Internet peering directly with Tier1 and Cloud Service providers (AWS, Azure, GCP, IBM)
Traffic engineering optimizations to ensure best routes are chosen
Enhance network performance with highly competitive SLAs and proactive monitoring by a U.S.-based enterprise NOC.
Ensure that users and applications have the speed and bandwidth they need to perform at optimal levels.
will design your Internet service to meet your specific business requirements. The below diagrams are a sample of what our engineers can design for your business.